Hungry, but don't know what you want to eat? There's an app for that. To the delight of the hungry millennial, the Google app now includes a "Recipe Search" option, which will help cooking novices narrow down their searches to find the exact recipe they are craving.
Google's announcement for the new search functionality describes it as a "carousel of tappable suggestion" that prompt you with some mouthwatering keywords. A search for "chicken wings" suggests options like "fried chicken," "buffalo," "honey," "crispy," or "slow cooker" to help you decide exactly what type of wings you want to make. With every added adjective, Google displays a refreshed carousel of potential search terms that sound like they came straight from the Food Channel. This type of predictive search is more user friendly than Google's autocomplete, which doesn't allow you to continually narrow down your search based on newly added keywords.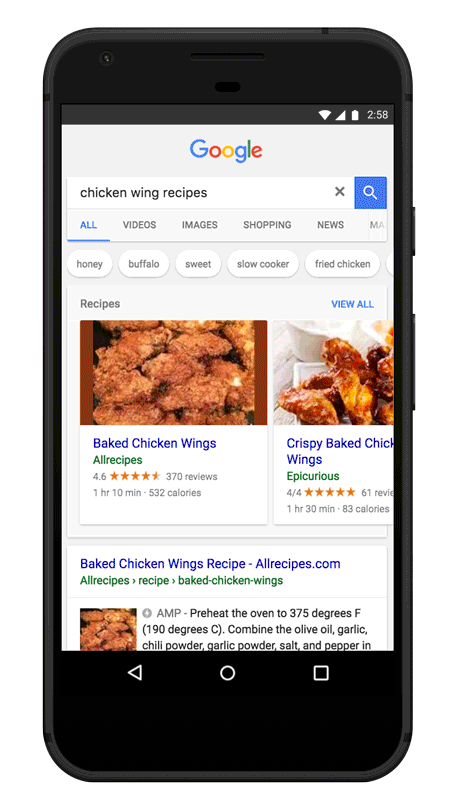 Sound familiar? It is. Google's new search function is almost identical to Pinterest's "Guided Search" bar, which helps you specify a search by using suggested keywords. In fact, Pinterest's use as a search platform is picking up speed: there are more than two billion searches per month on the platform. Not to mention, Google's Recipe Search was launched two days after the announcement of Pinterest's new "Search Ads." It seems like Google may be getting a little territorial over its search market share.
If Google's Recipe Search becomes standard practice for standard Google searches, it may affect how we advertise on Google. Imagine you are searching for a restaurant in your area. After typing in "restaurant in my area," Google would prompt you with keywords specific to different types of cuisine (Italian, Chinese, Mexican, French, etc.), and then continue to prompt you with other specific keywords to help you narrow down your search. Paid advertising campaigns would need to become much more specific in order to secure a top position on the search results page by the time a search is narrowed down.
By asking more questions, search engines are working to improve user experience and deliver better results, and digital advertisers may need to change their methods in order to be included in those results. Unfortunately, no search engine can tell us if Google is planning to use the same functionality of "Recipe Search" for more general searches, but if this type of predictive search becomes the norm, paid advertising will need to become more granular and hyper-specific to reach users and their more tailored searches.